Customer Success
·
Larvik
Junior Account Manager til ABAX AS
Om stillingen

Drives du av å pleie eksisterende kunderelasjoner og fokusere på mersalg? Trigges du av å jobbe med tjenester som er i forkant av teknologien? Da bør du fortsette å lese! 
ABAX er nå på jakt etter en Junior Account Manager til vårt hovedkontor i Norge. I denne rollen vil du jobbe i høyt tempo med ditt eget kundesegment. Dette gjør du først og fremst gjennom proaktiv og reaktiv oppfølging av eksisterende kunder for å sikre kundetilfredshet og vekst i kundebasen. Gjennom relasjonsbygging og god kunnskap om ABAX' tjenester bidrar du til at kundene våre blir mer effektive, sparer penger, og du hjelper dem med å få kontroll over biler, verktøy og maskiner.
Arbeidsoppgaver

Mersalg og kundebehandling av eksisterende kunder over telefon- og Teams-møter
Utvikle og styrke kunderelasjoner
Kontinuerlig informere og utdanne kunder om nye produkter og tjenester
Håndtere kontraktsproblemer og oppsigelser fra ABAX
Daglig kontakt med andre avdelinger som Finance og Customer Success i ulike typer kundesaker
Du tilbys

Utdanning i ABAX School hvor du får en solid introduksjon til stillingen og til ABAX som selskap
Moderne lokaler i vakre Hammerdalen, Larvik
Dedikerte kolleger fra hele verden, med godt samhold
Heltidsstilling med gunstige forhold
Kontortid 08-16
Tilrettelegging for personlig utvikling
Vi leter etter deg som

Er positiv og utadvent
Har gode kommunikasjonsferdigheter i norsk og engelsk, muntlig og skriftlig
Viser lærevillighet og pågangsmot
Får energi av å snakke med kunder samt har et sterkt engasjement for å levere gode løsninger
Fordel om du har

Har erfaring fra lignende roller tidligere
Kunnskap/erfaring i SaaS – og telematikkindustrien
Personlige egenskaper

I denne rekrutteringen vil vi legge stor vekt på personlige egenskaper. Vi leter etter deg som finner en sterk drivkraft i å jobbe med salg og utvikle eksisterende kundeforhold. For å passe inn i rollen, ønsker vi at du er en problemløser, målrettet og trigges av resultatoppnåelse . Du har en god evne til å drive arbeidet ditt fremover, men i oppgaver der lagarbeid er nødvendig, er du alltid en lagspiller. Siden du i denne rollen håndterer både mersalg, fornyelse av avtaler samt oppsigelser, må du også være fryktløs og vant til å forhandle.
Vi ser frem i til å motta din søknad i dag! Vi jobber løpende med aktuelle kandidater, og annonsen kan fjernes før stillingen er besatt hvis vi har flyttet oss til intervjufasen.
Øvrig informasjon
Oppstart: Snarest
Stillingsprosent: Heltid
Arbeidssted: Larvik
Our hiring process
1. We do look at your resume when some kind of experience is required but – early in our process we aim to do an objective screening with recruitment tests from our supplier Master
2. Short interview on the phone or Teams to find out a little bit more about who you are and why you are interested in this position.
3. In-depth interview with one of our recruitment specialists and the hiring manager – focusing even more on who you are and also – what you know.
4. Second interview with hiring manager and one other stake holder, could be a team member for example – to get to know each other even better. At this stage, we might also have a case exercise – focusing on how you would to the work.
5. Digital reference check through our supplier RefApp
6. Offer and celebration!

Department

Customer Success

Role

Junior Account Manager

Locations

Larvik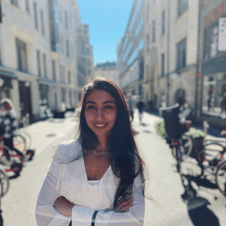 Contact
Nada Elnimr
Talent Acquisition Specialist – People
Our offer
🏢 Accommodating office spaces

We want to make it easy for you to enjoy your working time. We provide you with spacious collaboration spaces and in some of our offices we also offer a cafeteria as well as relaxation spaces.

🤝Pension & Healthcare

Working for ABAX, we ensure that you are provided for.

📘 On-the-job-training and internal development programs

Your growth is our growth! That is why we invest in our people.

💙Team building events

We facilitate after-works, hackathons and team building events for you and your colleagues. This includes twice a year kickoffs with the whole company as well as team campaigns.
About ABAX
ABAX delivers business value through data-driven insights and strives to find new ways for the customer to utilize data to benefit their businesses, society and the environment.

The ABAX SaaS is the basis for future sustainable solutions and business opportunities that will benefit customers across many different industries, society, and the environment.

Our mission is to enable business value from connected mobility data.

Customer Success
·
Larvik
Junior Account Manager til ABAX AS
Loading application form